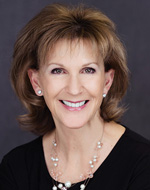 Elizabeth Morgan knows Calgary! She is a native Calgarian and has raised her family on the west side of the city where she has specialized in real estate since 1992.
Her varied professional background has included appraisals and renovations, which helps her assist sellers and buyers with considerable knowledge and experience. Assisting our over-50 population has become a niche market for Elizabeth, and she is happy to help families that are experiencing all of the frustrations and emotions that go along with selling the family home, finding alternative lodging for seniors and suggesting resources for the disposal of furniture and household items in the home.
Elizabeth's background was marketing and sales until the early '90's, when she started her own Decorating Den Interiors franchise and then became a Real Estate Agent in 1992. She is currently a real estate sales representative with MaxWell Capital .
The combination of Realtor®, appraiser, artist and decorator sets Liz apart in the home selling and staging playing field, as she is the only Calgary Realtor to have all 4 of these talents.
Elizabeth will not only look after you during every phase of your real estate experience, she will also share her home staging expertise with any of her clients who needs it!
She is also a fine artist, specializing in watercolor and acrylic paintings. Click here to view her art gallery.
Elizabeth is a hard working volunteer with the Calgary Stampede Caravan committee. Stampede Caravan Committee is the team of volunteers that puts on the famous Calgary Stampede breakfasts. These breakfasts have been part of the Calgary tradition for more than 85 years; getting out early in the morning, rain or shine, to provide a Calgary welcome and a western pancake breakfast and entertainment. http://caravan.calgarystampede.com/schedule
Liz is a Yoga enthusiast and was a co-owner of a wonderful yoga studio in SW Calgary. Contact her to find out about studio's in Bragg Creek and Calgary, and maybe plan to get together to do a 'down dog' with her also!
Agents' Listings